---
News
We have puppies!
I am very happy to present you our new, unique litter! At the 7th of April 2018, we welcomed to this world 9 ♥ sweet spring girls ♥
It's a truly moving moment because that is the first time that our beloved 'Nala' became a mother. Nala is a girl from the first litter born in our Żywiecki Trop Kennel. ( that litter was registered in Arisland Kennel)
Mother - "Nala"
EW`14 Ch.PL Jr.Ch.PL WDS`12 -Best Minnor Puppy
SOLEY ŻYWIECKI TROP z Arislandu

Father is phenomenal "Nilsson"
Gb Sh CH. Ir Sh Ch. JW CW`15

Top Dog ALL BREEDS Ireland 2015
GWENDARIFF WHIPPERSNAPPER
Mother is feeilng fine and the girls are growing greatly! ♥
Many special thanks for Mrs Diane Stewart-Ritchie for sharing her fantastic, lovely boy for my girl!
Thank you my friend Marina Romańuk for her help and support all the time ♥ Thank you Marta Pilawa for a beautiful litter announcement.
Those who are seriously interested, who know the specifics of the breed, please contact me via email dorotrevi@gmail.com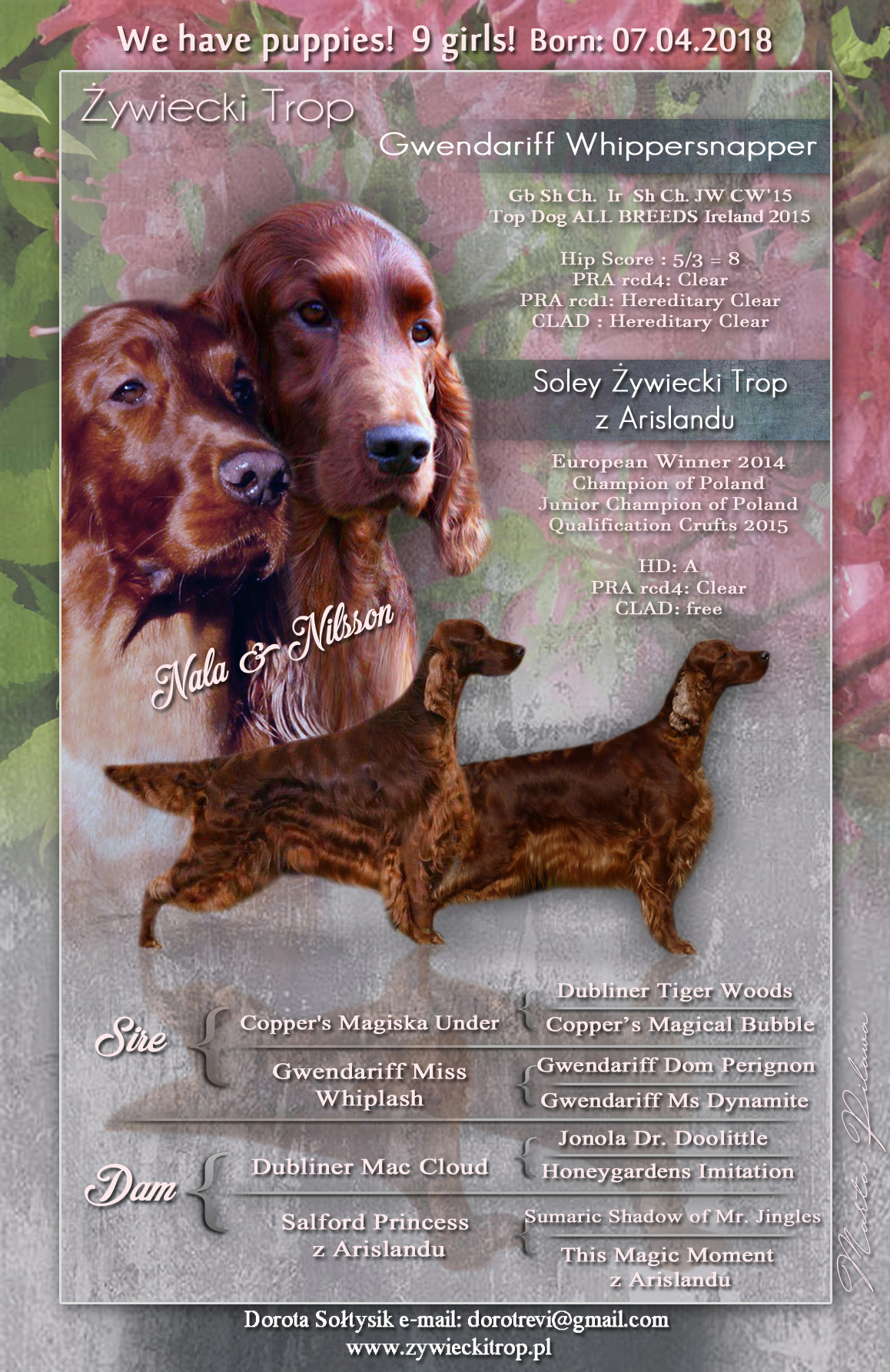 ---
European Dog Show 2014 BRNO
It was wonderful day for us at European Dog Show 2014 Brno!
Our lovely girl, only 22 months old Nala - JCh.Pl. SOLEY ŻYWIECKI TROP z Arislandu -
ex.I intermediate class, CAC, CACIB, BOS
EUROPEAN WINNER 2014!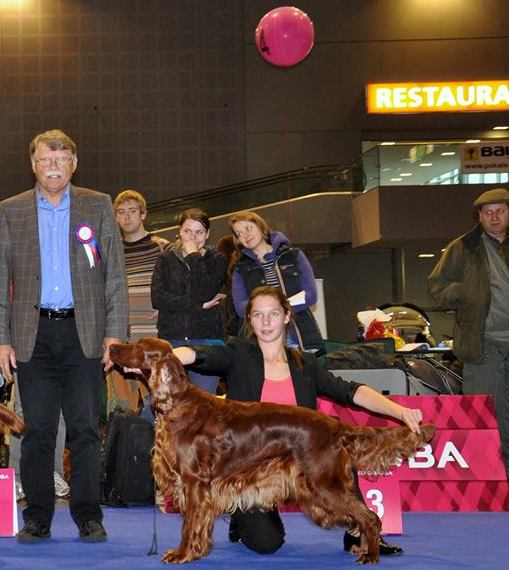 Her mom Paris, JCh.Pl, Ch.Pl., C.I.E. SALFORD PRINCESS z Arislandu - ex.II champion class
and our young gentleman, 9 months old mr. Carrot - FIRE OF THE NIGHT Żywiecki Trop vg junior class.
I am very, very happy!
Thanks to judge Jozef Jursa! Thanks to my daughters Małgosia and Ania for handling :)
---
The F "Fire" litter
They're healthy and becoming even more beautiful everyday. They are also very lively, happy, curious and ready for fun all the time. From the start we take care of their proper socialization. We are extremely glad with them and very proud.
Vaccinated, dewormed puppies, having a tattoo, chip and health booklet, are all in their new, loving homes. :)
Four girls and one boy have a PRArcd4 certificate (laboklin)
GIRL in new, loving home
FIRE IN MY HEART Żywiecki Trop (pink)
PRArcd4 certificate CLEAR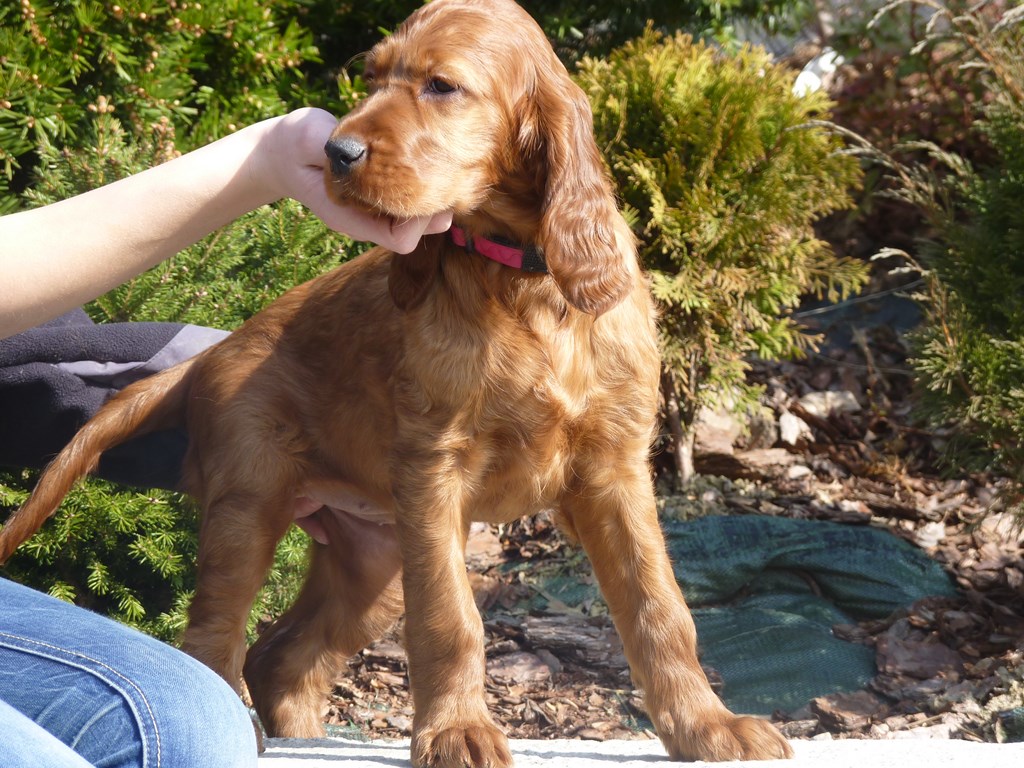 GIRL in new, loving home
FIRE ON BABYLON Żywiecki Trop (purple)
PRArcd4 certificate CLEAR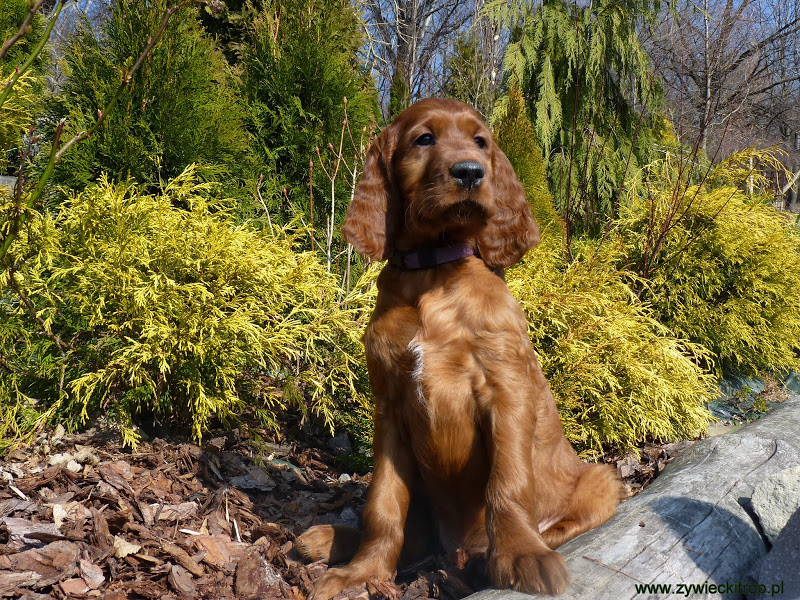 BOY in new, loving home
FIRE IN MY SOUL Żywiecki Trop (golden)
PRArcd4 carrier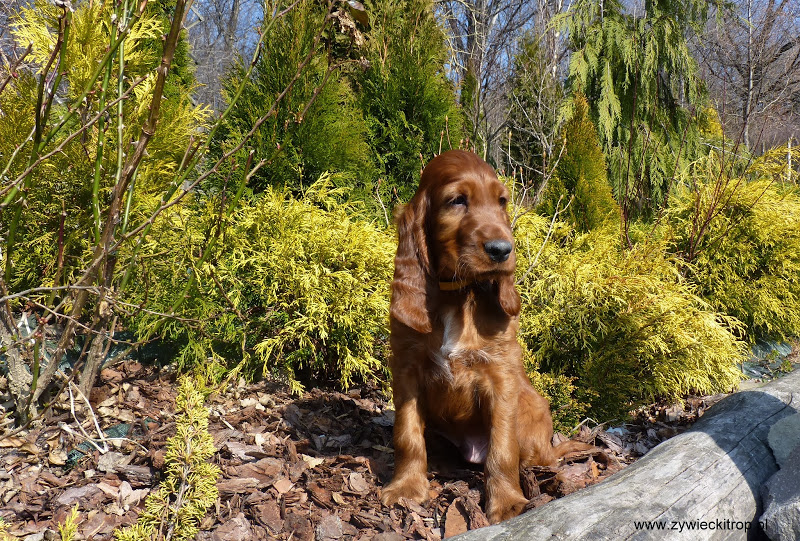 FIRE ON BABYLON Żywiecki Trop - has got a new, loving home, PRArcd4 clear (puprle girl)
FIRE IN MY HEART Żywiecki Trop - in new, loving home PRArcd4 clear (pink girl)
FIRE IN THE SKY Żywiecki Trop - has got a new, loving home (blue girl)
FIRE IN MY EYES Żywiecki Trop - has got a new, loving show home (green girl)
FIRE INSIDE THE MOUNTAIN Żywiecki Trop - has got a new, loving home (white girl)
FIRE IN MY SOUL Żywiecki Trop - has got a new, loving home, PRArcd4 carrier (golden boy)
FIRE OF THE NIGHT Żywiecki Trop - stays in our kennel (lime boy)